In Review
Hot House Professional Model Four Hundred Amp
Hot House offers an amp that lets the character of your gear shine through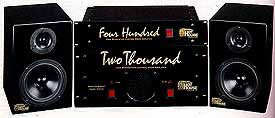 In spite of the fact that they're just as important as any other part of the audio reproduction chain, it seems like power amplifiers get no respect. In most studios, they're tucked away in an amp closet or hidden underneath a console, never to be minded until something goes wrong. Yet having a quality power amplifier is crucial to the sonic accuracy of a control room. While many of the tools we choose for making recordings are selected because of their sonic coloration, power amplifiers and monitor speakers may be the only components we choose for accuracy.

Fortunately, Hot House Professional Audio takes monitoring very seriously, as evidenced in EQ's review of their PRM 165 loudspeaker and ASB 115 subwoofer in the October 1999 issue. Most recently, Hot House sent us the Model Four Hundred and Model Two Thousand high-resolution control room amplifiers for review. Circuit topology for the two amplifiers is largely similar, with the exception being power output rating: 125 watts per channel into stereo 8-ohm loads for the Model Four Hundred and 390 watts per channel into stereo 8-ohm loads for the Model Two Thousand.

Model Four Hundred
We'd classify the size and weight of the Model Four Hundred about average for an amp with its qualifications, but its external finish and build quality is in a class shared by few. The front panel is almost 3/16 inches thick and finished with a glossy black enamel, giving it a unique look. A view under the hood of the Model Four Hundred reveals what is essentially a dual-mono design, with the two channels on separate circuit boards bolted directly to the heat sinks that form the left and right side-panels of the chassis.

A large toroidal power transformer occupying the center of the chassis is the only component shared by the two channels. The transformer employs split-dual secondaries for complete galvanic isolation between channels, significantly enhancing the toroid's ability to respond to transients. Each channel is individually fused, and circuit layout is clean, with hand wiring of the input from the rear-panel Neutrik Combo connectors to the circuit boards.

On the rear panel are a pair of five-way binding posts for speaker output, an IEC power receptacle, and silk-screened legends for pin configuration and bridged operation. Bridging the Model Four Hundred is a bit more complex than just flipping a switch: a parallel input must be applied to both channels with the right channel phase-reversed. Then the left-hot and right-hot output posts are connected to the speaker and the two ground output posts are connected to each other. When bridged into an 8-ohm load, the Model Four Hundred can deliver 400 watts. According to Hot House Professional Audio, manual bridging avoids switches that would otherwise compromise the pristine audiophile signal path, and assures that the owner is deliberately going mono (no chance of accidentially screwing up).

In The Studio
We used the Model Four Hundred (with a Yamaha 02R and several TASCAM DTRS machines) over a period of several months for tracking, overdubbing, and mix sessions, powering several sets of loudspeakers including Hot House's PRM 165's and Westlake Lc8.0's. We quickly noticed that the Model Four Hundred is a very transparent amplifier, really allowing the character of your gear to come through. Transient response was excellent, most noticeably on synth sounds containing clicks and clangs, which really came alive with the Model Four Hundred.

This amplifier is a perfect match for the PRM 165's, allowing the speakers to play sufficiently loud, yet never putting them in danger of being overpowered. The Model Four Hundred/PRM 165 combination moved a decent amount of air on low-frequency synth sounds and kick drums, though, when we attempted to achieve near-realistic SPLs for kick drum, the system didn't quite have the muscle. It was interesting to note that, as we approached the power limitations of the Model Four Hundred, it didn't sound compressed like many amps do under similar circumstances; it just stopped getting louder. Although it may not have the horsepower to drive large control room "mains" monitors to thunderous SPLs, it certainly delivers the goods on a nearfield system.

One of the more subtle characteristics of the Model Four Hundred was its "presentation." We've never really liked using that word to describe amplifiers, but the Model Four Hundred does exhibit a marked sense of realism. Stereo separation was extremely well-defined, no doubt due to the circuit topology. Also, the level of detail that the amp could resolve was definitely better than the average bear: low-level reverb tails and subtle echoes were clearly audible, as were high-frequency percussion sounds that might otherwise be buried in a mix.

The Model Four Hundred high-resolution control room amplifier from Hot House Professional Audio is a beautifully executed design that combines a healthy power output with detailed reproduction, excellent stereo separation, and very fast transient response. Keep in mind that, should you outgrow its power capabilities, you can always purchase another Model Four Hundred and run the two amps in bridged mode. Definitely a good match for the proliferation of nearfield monitors we've seen over the past few years, and a welcome addition to any control room. In addition to the Model Four Hundred, Hot House Professional Audio also sent EQ the Model Two Thousand High Resolution Control Room Amplifier ($4999). This amp is Hot House's flagship and everything speaks "serious" about it (in fact I'm still swearing over the condition of my lower back after unpacking this 85-pound beast and moving it into the control room). The Model Two Thousand is built upon a massive chassis in a true dual-mono design which includes separate power cables and front-panel on/off switches per channel. In addition to the same rear-panel I/O connectors as the Model Four Hundred, the Model Two Thousand also has a switch for each channel to toggle between floating and common ground, facilitating installation. Peering under the hood reveals two toroidal transformers and a total of 20 MOSFET output devices per channel. If you can find a rack strong enough to support it, the 1/4-inch-thick front panel will occupy five rack spaces. Unlike the Model Four Hundred, the Model Two Thousand is actively cooled by a quiet fan which never became obtrusive during session work.

Having the Model Two Thousand in your monitor system is like driving a Ferrari on a Sunday cruise down the interstate -- you really don't need all that power, yet when you want to put the pedal to the metal, the reserve is there. However, unlike many high-powered amplifiers, the Model Two Thousand is about more than just brute force. It's also about finesse, clarity and detail -- much like the Model Four Hundred. In addition to those attrtibutes it reproduces low frequencies in a completely effortless manner, never giving the impression that it could run out of steam regardless of SPL or monitor size. We also felt that the Model Two Thousand sounded a bit more extended in the low-frequency range than the Model Four Hundred. This is in fact due to the Two Thousand's ability to deliver huge amounts of current to easily move any woofer -- resulting in a perceptual difference in low end (both amps are actually high-passed at 3 Hz for protection from DC).
Since the Model Two Thousand delivers at least double the rated power before the onset of audible distortion, the need to bridge the amp for mono is unlikely. Hot House Professional Audio does offer a bridging switch as an option, however, they note that the only time they ever bridge a Model Two Thousand is to run the 3840-watt, triple-12-inch mid bass section of their High Output Series SD312 mega main monitor system. In bridged mode, a Model Two Thousand has a peak output of 200 amps into an 8-ohm load. No question: this is one of the best amplifiers we've ever used. Hmmm...maybe I really don't need that new car...



EQ Lab Report


MANUFACTURER: Hot House Professional Audio, 275 Martin Avenue, Highland, NY 12528. Tel: 845-691-6077. E-mail: info@hothousepro.com. Web: www.hothousepro.com.
SUMMARY: High-quality, medium-powered amplifier designed for studio monitoring.
APPLICATIONS: Control room monitoring.
STRENGTHS: Exceptional clarity and stereo imaging; excellent transient response; beautiful design; amp may be bridged for future "expandability."
WEAKNESSES: May not have enough power to move your world.