Reviews: EQ Audition
Hot House PRM 165 Monitors
Hot House's new compact monitors tell it like it is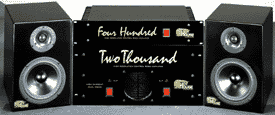 The PRM 165 from Hot House Professional Audio is the newest in the company's line of high-resolution, professional reference monitors. Combining a shielded 6.5-inch, long-excursion woofer and a 1-inch, recessed-dome tweeter in a 13-inch deep cabinet, Hot House intends the PRM 165 for console-top or stand-mounted placement. Hot House engineers have designed this passive speaker to be free of bumps across the frequency range, and response is stated to be within 1 dB from 300 Hz to 15 kHz. Hot House Professional Audio sent EQ a pair of PRM 165's, plus their ASB 112 subwoofer and Model Four Hundred and Model Two Thousand power amps.

Although the PRM 165's look like "typical" compact studio monitors, closer examination of the black-painted cabinet reveals a lot of attention to detail. To minimize diffraction and help maintain accurate stereo imaging, the front baffle is free from any sharp angles and does not employ a grille. Depth of the cabinet is noticeably greater than that of most monitors with a similar-sized front panel a factor that must surely contribute to the PRM 165's extended low-frequency response. We patched our Yamaha 02R console into the input of Hot House's Model Four Hundred amplifier, which we used to drive the 165's. Even upon a first, casual listen, it's obvious the PRM 165's are different from many monitors. The lower-midrange is a bit laid back when compared to some other monitors not because the PRM 165's are lacking in that region, but because they are accurate in this area where many monitors hype the response. Further listening and session work revealed that they sounded as flat as they measured.

We used the PRM 165's on a variety of tracking and mixing sessions, including a drum tracking session where the snare drum was a Noble & Cooley Alloy Classic. This drum has a very distinct, subtle tone, which can easily be masked through other monitors, but when heard through the PRM 165's, all the snap and clang from the drum came through loud and clear. Side stick played on the Alloy Classic sounded crisp and natural. Kick drum was solid and tight, if not capable of moving enough air to rock your world (we wouldn't expect any 6.5-inch woofer to do so). Cymbals were clean and extended with plenty of air, yet without sounding harsh. On floor tom, we noticed something we don't usually hear through different monitors with the same signal chain the pitch bend of the drum was clearly audible. Although the 165's sounded a bit lean in their bottom octave, this characteristic is the lack of boominess and coloration present in most other monitors of this size.

Using the Model Four Hundred amplifier, the 165's played plenty loud for a control room roughly 12 x 15 feet, within a nearfield of about 4 to 6 feet. (We'll tell you about our results with the Model Two Thousand in a forthcoming review!) Larger control rooms may need more SPL; a requirement that can be met by the addition of the ASB 112 subwoofer (more on that subject later).

These monitors scored high on what we call the "ruthless scale" they are revealing enough to let you know what's really going to tape in our opinion, the most important factor when choosing a reference monitor. The PRM 165's maintained a transparency in the upper mids, which minimized coloration of male and female vocals, guitars, and piano, and they managed to be sonically revealing without sounding harsh in the top end.

When it came to mixing, the PRM 165's were easy to listen to and produced minimal fatigue (we generally monitor at around 87 dB SPL). Off-axis response was very consistent, with a large, useful listening window with the speakers placed about six feet apart. When mixes on the PRM 165's were played on home systems, tonal balance was ever-so-slightly shy in the top end almost certainly due to the Hot House monitors' extended frequency response and the lack thereof in most home systems. However, there were no sonic surprises, especially in the critical midrange and lower-mids. Vocal balances translated well to other rooms, as did bass tones and balance between kick drum and electric bass or synth. This means the PRM 165 is just about as effective for mixing as it is for tracking.

We did our final tests of the PRM 165 in conjunction with Hot House's ASB 112 active subwoofer. This sub contains a 32-pound, 12-inch driver and a built-in, 450-watt MOSFET power amplifier. An ASB 112 with a pair of PRM 165's can deliver flat response down to below 30 Hz, and enough SPL to make any club music fan happy. If you decide to add this subwoofer to your control room, be sure to have another person around to help this thing is heavy! Connection of the ASB 112 into your system is easy. In our situation, output from the Yamaha 02R was patched to the rear-panel input of the ASB 112, which contains an active crossover (thanks to Hot House for providing both balanced XLR and unbalanced RCA I/O jacks). Rear-panel XLR outs were then patched to the input of the Model Four Hundred. In addition to the I/O jacks, the rear panel is also home to a power switch, IEC receptacle, continuously variable low-pass and high-pass filter frequency select knobs (independently adjustable and fully overlapping), a low-frequency level control, and four switches. The four switches provide control over bass EQ on/off (intended for home theater applications), phase reverse, sensitivity adjustment for balanced or single-ended input sources, and LF bypass.

We set the ASB 112's controls as per the manufacturer's suggestion high- and low-pass at 80 Hz (approximately 1:00) and low-frequency level at about 12:30. Though placement of the ASB 112 is less critical than that of the PRM 165's, we experimented a bit with location until we settled on a spot approximately three feet from any wall. The result was a very natural and seamless integration of the subwoofer with the PRM 165's, and a noticeable increase in headroom as well as maximum SPL of the system. With the PRM 165's now relieved of their duties below 80 Hz, imaging and clarity in the midrange was brought up another notch. We thought we heard a subtle increase in the top end of the PRM 165's when we added the ASB 112. Hot House confirmed this perceptual change as a result of the Model Four Hundred amp being high-passed by the 150 kHz-bandwidth crossover no longer using energy on the lower octave, there's an increase in dynamics and "air" in the top end.

The ASB 112 is very well-matched to the PRM 165's if you didn't see the subwoofer, you wouldn't know it was there. One thing we didn't like about the ASB 112 was that because the electronics are active the subwoofer must be powered on to pass signal. In studios where engineers frequently like to switch the subwoofer in and out of the system for comparison purposes, this means having to repatch the console output directly to the power amp for the PRM 165's. Definitely an inconvenience, though, according to Hot House, the signal path would be compromised by addition of bypass switching circuitry. Most importantly, the ASB 112 increases the low-end extension of the PRM 165's without ever sounding sloppy, boomy, or giving you "one note" bass. It certainly ain't cheap, but when you consider it as a major upgrade to your monitoring system, which includes a power amp and active crossover, the price looks more reasonable.

Hot House Professional Audio has certainly done their homework on the PRM 165's, and, at the price, they are extremely stiff competition for similarly priced monitors.

MANUFACTURER: Hot House Professional Audio, 275 Martin Avenue, Highland, NY 12528. Tel: 845-691-6077.
E-mail: info@hothousepro.com. Web: www.hothousepro.com.